SAVE THE DATE!

We are pleased to announce that TMCA's 15th Annual Symposium will be held Saturday, October 26, 2019, from 8:00 am until 4:45 pm at the South Texas College of Law, Houston. More details to come.
Our room block is open at the C. Baldwin Curio Collection by Hilton (formerly the DoubleTree by Hilton Houston Downtown) for $129 per night. Book online or call 1-800-HILTONS or 1-800-445-8667 and request the TMCA room block. Standard hotel WiFi is free with this room rate and parking at the hotel is $24/night. Parking is valet-only.
The hotel's address is 400 Dallas Street, Houston, TX 77002. It is about a four-minute drive from the hotel to the South Texas College of Law.
TEXAS BAR JOURNAL CENTER-SPREAD ADVERTISEMENT
Check out our center-spread ad in the upcoming June 2019 issue of the State Bar of Texas' Bar Journal! Every year since 2007, TMCA has placed an ad in the Texas Bar Journal listing all current Credential holders. This exposure to more than 100,000 Texas attorneys helps fulfill TMCA's mission to "Promote Quality Mediation Throughout Texas."
TMCA'S 2018 MEDIATION BENCHBOOK SUPPLEMENT
As a followup to the mailing of TMCA's Mediation Benchbook, Second Edition to more than 1200 District, County, Federal, and Supreme Court judges in 2017, TMCA mailed an updated list of Credential holders to these same sitting judges in October 2018. Our 2018 "Supplement to the Mediation Benchbook" is another way TMCA puts credentialed mediators at the fingertips of influencers and decision-makers while fulfilling its mission to promote quality mediation throughout Texas.
The Mediation Benchbook, Second Edition, provides Texas judges and others that utilize mediation a resource that includes mediation statutes, a sample mediation order, TMCA credentialing criteria, information about TMCA's grievance process, and the Texas Supreme Court ethics orders. The Benchbook is funded by your dues and an educational grant from the James W. Gibson Fund.
Ross W. Stoddard, III, Is Named TMCA's Outstanding Credentialed Mediator for 2018!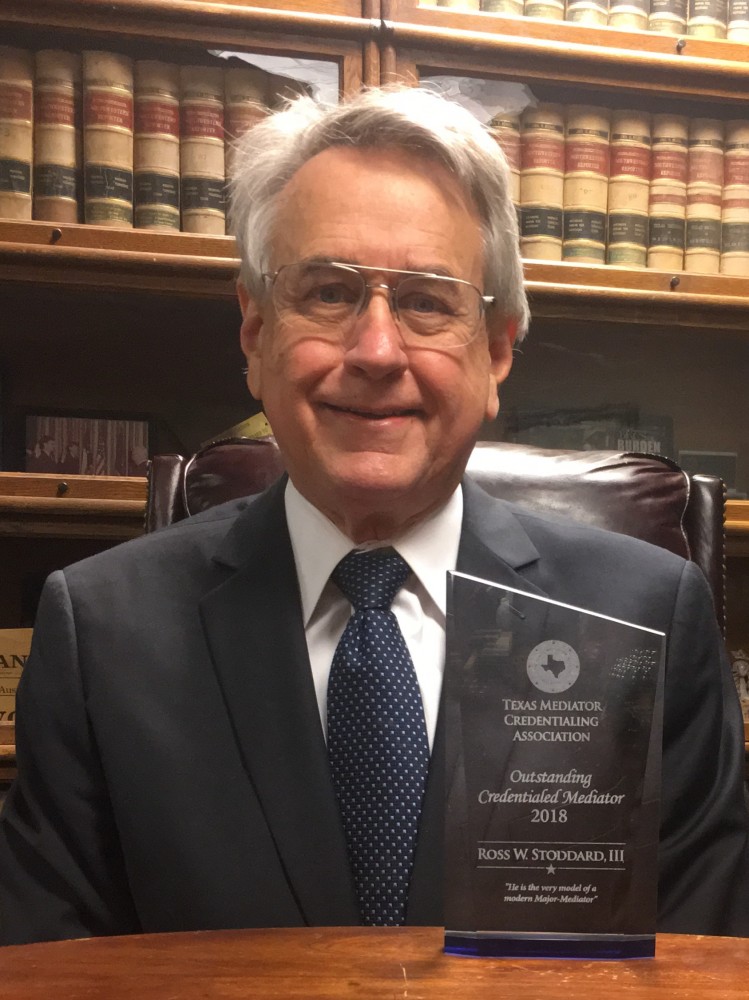 Ross Stoddard is a founder of the mediation movement in Texas. He and his group of trainers (The Academy) initially trained the vast majority of mediators who started practicing mediation in Dallas and throughout the state in the late 1980s and early 1990s. Ross is not only an outstanding teacher and highly skilled mediator, but also a really nice guy. He is famously known for his adherence to the ethical standards which he teaches interactively via the use of Post-It poster boards throughout the state of Texas.
Ross has trained over a thousand mediators for over two decades in mediation ethics and mediation skills and practices in basic and advanced mediation programs in Texas schools, for the Texas Judiciary, and for many organizations, including the American Bar Association, Association of Attorney Mediators, Dallas Bar Association, Attorney-Mediator Institute, Indiana and Arkansas Bar Associations, SPIDR, Texas Association of Mediators, Texas Association for Court Administration, Texas Judicial College, and at our TMCA Symposiums.
Since 1989, Ross has developed a full-time mediation practice, having conducted 5,000+ mediations, involving $27+ billion in aggregate claims in a wide variety of matters. He has repeatedly been recognized by his peers and clients as an excellent mediator.
Ross is a TMCA Credentialed Distinguished Mediator and is or has been a member of the Association of Attorney Mediators, Texas Association of Mediators, SPIDR, the ADR Sections of the State Bar of Texas, American Bar Association, Dallas Bar Association and Tarrant County Bar Association. He and his wife, June, grace many after-hour gatherings, helping other mediators deal with the solitary life of a full-time mediator.