Mediation Benchbook
TMCA'S MEDIATION BENCHBOOK AND SUPPLEMENT TO THE MEDIATION BENCHBOOK
In October 2017, TMCA mailed our Mediation Benchbook, Second Edition, to more than 1200 District, County, Federal, and Supreme Court judges, as well as to all current Credential holders. With this Benchbook was a list of Credential holders for that year, grouped by Credential designation and primary practice county. The goal of TMCA's Benchbook is to help educate sitting judges about mediation in Texas, as well as the value of mediator credentialing. The last Mediation Benchbook had been issued in 2011 and future versions will come out every four to six years.
The Mediation Benchbook, Second Edition, provides Texas judges and others that utilize mediation a resource that includes mediation statutes, a sample mediation order, TMCA credentialing criteria, information about TMCA's grievance process, and the Texas Supreme Court ethics orders. The Benchbook is funded by your dues and an educational grant from the James W. Gibson Fund.
Each year since 2012, TMCA has also mailed an updated list of Credential holders to these same sitting judges. Our 2022 "Supplement to the Mediation Benchbook" is another way TMCA puts credentialed mediators at the fingertips of influencers and decision-makers while fulfilling its mission to promote quality mediation throughout Texas.
TMCA's Mediation Benchbook, Second Edition
Click image to view full Benchbook: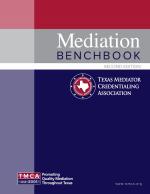 2022 "Supplement to the Mediation Benchbook"
Click image to view insert: