TMCA'S 2021 SYMPOSIUM REGISTRATION IS NOW OPEN!
UPDATE: Given the current conditions involving COVID-19, this year's Symposium will be held via Zoom only.
When: Saturday, October 23, 2021, 8:25 am to 5:00 pm
How: Live via Zoom*
Current Credential holders, please click here to login and register.
Non-Credential holders, please click here to complete our online registration form.
Early Bird Discount by 10/3/21:
$75 (current Credential holders)
$100 (non-Credential holders)
AFTER 10/3/21:
$100 (current Credential holders)
$125 (non-Credential holders)
For more information about this year's Symposium, please click here or, to view the Symposium brochure, please click here.
We can hardly wait to see you!!!
*We plan to record all sessions for online access to all paid registrants through 12/31/21.
TEXAS BAR JOURNAL CENTER-SPREAD ADVERTISEMENT
Watch for our center-spread ad in the June 2021 issue of the State Bar of Texas' Bar Journal! Every year since 2007, TMCA has placed an ad in the Texas Bar Journal listing all current Credential holders. This exposure to more than 100,000 Texas attorneys helps fulfill TMCA's mission to "Promote Quality Mediation Throughout Texas."
RENEW OR APPLY FOR YOUR 2021 TMCA CREDENTIAL NOW!
Click here to log in and renew or re-apply online or click here to apply online.
CHANGES TO 2021 TMCA CREDENTIAL RENEWAL & APPLICATION REQUIREMENTS DUE TO COVID-19 PANDEMIC
We hope you are safe and well. In early June, TMCA's Board of Directors established a "COVID-19 Compassion Committee." The task of this committee was to assess the impact of the pandemic on Texas mediators and to recommend to the Board any changes to 2021 renewal and application requirements that could ease the burden on current and prospective TMCA Credential holders during this uncertain time.
For TMCA 2021 renewals only:
The annual mediation experience requirement has been waived for all Credential designations.
The continuing education requirement has been reduced from 15 hours to 10 hours. Such 10 hours must have occurred in the year 2020 and relate to the practice of mediation. Of such hours, at least three (3) must consist of mediation ethics, up to four (4) may be self-study, and up to five (5) may be as an instructor of mediation training. Given the reduction in CED hours, such 10 hours shall not include substantive courses. For information regarding Continuing Education Criteria, click here.
The requirement to make him/herself available to conduct pro bono mediations each year has been waived for TMCA Credentialed Advanced Mediators and TMCA Credentialed Distinguished Mediators.
For Candidates for Credentialed Mediator whose fourth year as such occurred in 2020, that candidate may continue as a Candidate for Credentialed Mediator for one additional year.
For applications by mediators applying for a TMCA Credential for the first time:
Beginning 2020 and ongoing:

The training requirement now includes the option to take the 40-hour Basic Mediation Training via video conference, if the full 40 classroom hours are live and interactive.
If you have any questions or comments about any of these changes or your Credential, please contact TMCA's Vice Chair, Credentialing: Melanie Grimes at mgrimes@mgmediation.com.
JOHN P. PALMER NAMED TMCA'S OUTSTANDING CREDENTIALED MEDIATOR FOR 2020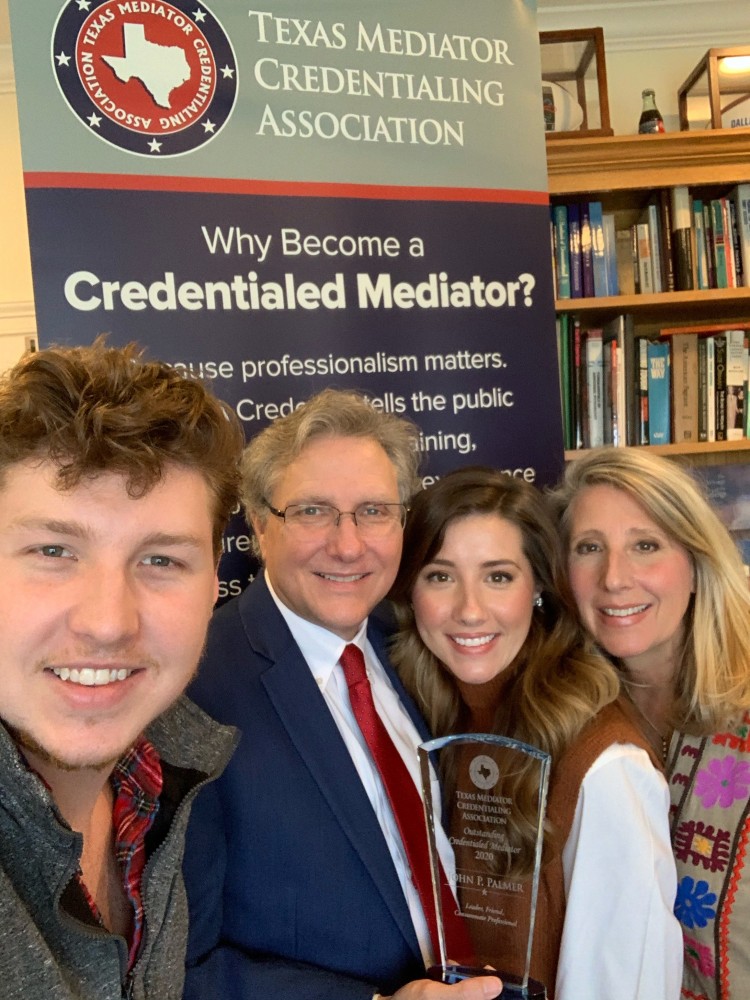 TMCA'S 2020 MEDIATION BENCHBOOK SUPPLEMENT
Each year, TMCA mails our "Supplement to the Mediation Benchbook" to more than 1500 County, District, Appellate, Federal, and Supreme Court judges across Texas. This Supplement includes all current TMCA Credential holders listed by county of primary practice. Our 2020 "Supplement to the Mediation Benchbook" is another way TMCA puts credentialed mediators at the fingertips of influencers and decision-makers while fulfilling its mission to promote quality mediation throughout Texas.
The Mediation Benchbook, Second Edition, mailed to the same judges, provides Texas judges and others that utilize mediation a resource that includes mediation statutes, a sample mediation order, TMCA credentialing criteria, information about TMCA's grievance process, and the Texas Supreme Court ethics orders. The Benchbook is funded by your dues and an educational grant from the James W. Gibson Fund.